Background
The Plastics Innovation Hub Vietnam will enhance stakeholder collaboration, leverage existing investment, attract new sources of funding, and boost innovation capabilities to identify deep-tech opportunities to tackle plastic waste and translate them into real world solutions across the region.
The Hub Vietnam will bring together Vietnamese and Australian partners to establish an innovation hub to a focus on reducing plastic pollution and strengthen research collaborations to help identify new approaches in tackling plastic waste across the country.
The Plastics Innovation Hub Vietnam is an initiative of Aus4Innovation, which is an official development assistance program, sponsored by DFAT, managed and co-funded by CSIRO and the Hanoi Embassy and delivered in strategic partnership with Vietnam's Ministry of Science and Technology (MOST) and with collaboration from the National Plastic Action Partnership and the Vietnam Administration of Seas and Islands (VASI).
Addressing a shared priority
The Vietnamese Government pledged to reduce the flow of plastics into the ocean by 75 per cent by 2030 in their National Action Plan on Marine Plastic Debris Management. Additionally, the national government created a National Action Plan on Ocean Plastic Waste and has an upcoming nationwide ban on single-use plastics by 2025.
The Hub Vietnam builds on the successful Plastics Innovation Hub Indonesia partnership and is part of CSIRO's Ending Plastic Waste Mission, which has a goal of an 80 per cent reduction in plastic entering our environment by 2030.
Purpose of the Hub Vietnam
The Plastics Innovation Hub Vietnam aims to facilitate and provide momentum for self sustaining multi-sided marketplaces where change can occur by enabling the collaboration between researchers, NGOs, SMEs, start-ups, government, industry and investors, through a series of activities that identify, initiate, build and grow solutions that shift the dial on plastic waste.
It will bring together academia, start-ups, NGOs, investors, industry, and government to collectively tackle plastic waste by facilitating a collaborative space to design, support, and scale highly impactful deep-tech solutions.
Hub Vietnam co-design
Throughout 2021, a number of workshops were held to engage partners and sponsors. Stakeholders across the system helped to define the key focus areas and opportunities, along with undertaking an initial mapping of the initiatives and organisations who are currently involved in researching, delivering or procuring solutions. Stakeholders identified the key challenge statements which will be explored through the delivery phase of the program.
Hub Vietnam's Challenge Statements: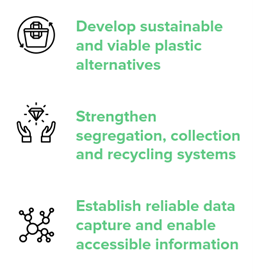 How will the Hub work?
A series of workshops will provide an opportunity for stakeholders to share knowledge and identify the priority areas for the Hub to provide expertise, the structure to govern the Hub, and opportunities to collaborate with the Hub.
The Hub supports a range of collaboration and engagement methods which are practical for different contexts and stakeholders. This enables transparent knowledge sharing and effective collaboration in multidisciplinary, cross-sectoral environments.
The Hub's program structure and implementation roadmap has been designed to facilitate a pathway for both upskilling the Vietnamese entrepreneurial and innovation ecosystem, as well as supporting the growth journey of early stage ventures.
Contact us
For more information on the Hub please contact: ASEAN@csiro.au.