Innovation Program
About this program
The Vietnam Plastics Innovation Hub is proud to introduce the upcoming Innovation Program.
This virtual 4-week fast-paced journey is designed to build personal and professional skills for those who are looking to refine a big idea which tackles plastic waste in Vietnam.
Join us for weekly 'flipped' classroom learning experiences, expert coaching, high-profile guest speakers, and opportunities for you to share your experiences.
Who is it for?
The program has been designed to suit the needs of individuals and teams early in their journey towards setting up an impact-driven venture. This is a great opportunity for those who are yet to formulate a business idea, those who have many ideas, or those who have identified an emerging business opportunity.
Why join this program?
At the end of this program, participants will learn how to:
Gather evidence to better understand and articulate problems worth solving
Best connect solutions with intended target audiences
Capture value from customers, grow a business and find pathways to scale
Develop a compelling narrative and practice pitching with a live audience online
How long does it run for?
In order to get the best out of the program, participants will need to commit approximately 6 hours per week.
Program Overview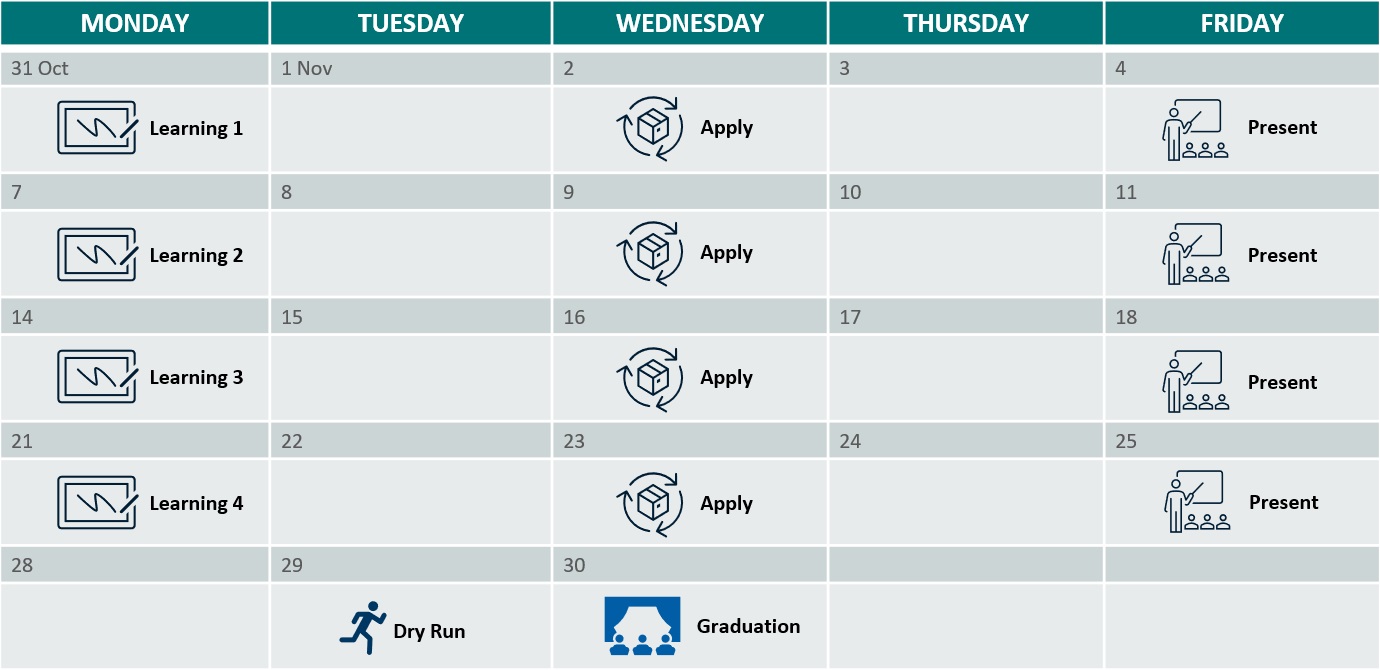 Learning
31 Oct, 7 Nov, 14 Nov, 21 Nov
09:00am to 10:00am ICT
1:00pm to 2:00 pm AEDT
Teams review online materials in advance of the session and then have an opportunity to apply the learnings, ask questions in class, and hear from guest speakers.
Apply
2 Nov, 9 Nov, 16 Nov, 23 Nov
Time arrange with coaches
(30 minute sessions)
After applying the learnings from the Monday LEARN sessions and the online materials, coaches will be available to provide 1-on-1 tailored support and feedback.
Present
4 Nov, 11 Nov, 18 Nov, 25 Nov
09:30am to 10:30am ICT
1:30pm to 2:30 pm AEDT
Teams use a pitch format to share their progress and learnings achieved in the week. This is an opportunity for group feedback and development.
Information Session
18 October 2022 (09:30am to 10:30am ICT | 1:30pm to 2:30 pm AEDT)
Come and learn how the Vietnam Plastics Innovation Hub's 4 week Innovation Program can support your entrepreneurial journey.
During this session we will provide an overview about the program, including the expected outcomes for participants, more information on the commitment required and how to apply.
We will also introduce the skills and mindsets required to get into the mindset of a successful entrepreneur.
Program Graduation Event
30 November 2022 (time to be confirmed)
The final stage of the program will include a networking event for participants to meet others in the community looking to combat plastic waste and exchange information. This session will also include a 3-5 minute pitch from a select number of participants/teams that have an advanced idea with specific needs to scale their impact.
Key Dates